Contact Us
People Heart Study
Find out what you can do today to prevent a heart attack, stroke, or other cardiovascular event.
We are interested in understanding how data can empower individuals to evaluate their health. In particular, we want to study how anybody could use their personal health data to learn about the health of their heart.
Why the heart? Because heart disease remains the leading cause of death in the United States, and evidence suggests that it can be prevented by appropriate lifestyle and medical management.
Our study will help us understand whether individuals gaining digital access to their lab tests and medical history from their care providers could produce personalized heart health recommendations like this example based on the current guidelines for primary prevention of heart disease from the American College of Cardiology and the American Heart Association.
Enroll by downloading the iOS App "People Heart Study" on your iPhone.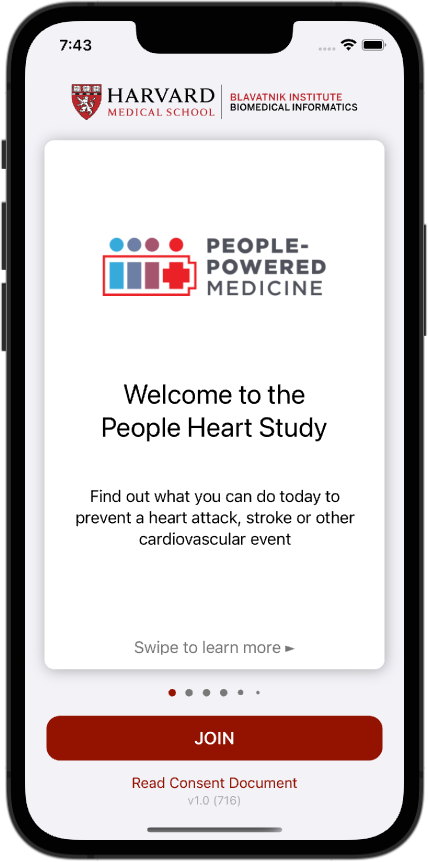 How this study works
First, download the app from the App Store. Launch "People Heart Study" and after confirming eligibility and consenting through the app, you will be presented with a list of 4 steps to complete.
These steps consist of short surveys on your medical history and relevant risk factors for heart disease. We will also ask your permission to retrieve select data from your iPhone's Apple Health app. Learn how to link your iPhone's Health app with your care provider.
We estimate it should take no more than 30 minutes to complete all the steps in this research study.
Who Can Participate
Individuals meeting the following criteria are eligible to enroll in this study:
What to Expect
Once all steps are completed, the app will create a heart disease risk report and a downloadable PDF file that can be shared with your doctor.
This report will include information on your risk scores, major and minor risk factors and suggested lifestyle changes. It may also include a recommended medication if appropriate.
Discuss with your doctor
The PDF report will contain guideline-based recommendations and whether intervention is required. Discussing this with your doctor can help make better decisions.
While the recommendations may be based on a mix of your health data from your Electronic Health Records (EHR) and your self-reported medical history, they do not replace clinical judgment and are thus for research purposes only. Consulting your doctor with a report may lead to a more informed, shared decision making.
Apple, App Store and iPhone are registered trademarks of Apple Inc.
People Heart Study is powered by SMART Markers